I'm not really much of a gamer. I used to play Super Mario Bros. and Galaxian / Space Invaders on a game console that you connected to your television set when I was younger (which I enjoyed to death by the way). Later on, I played computer games like A Bug's Life and Prince of Persia but not that often – I didn't actually get into the whole video-game thing like some of my friends did. So this weekend I tried Runescape, an MMORPG, at the suggestion of The Doctor. The avatar I created was a brown / dark woman dressed in blue and black – nothing too fancy or too off the mark from what I look like (except maybe the hairstyle). I chose a woman because that's what I am, it's what I know to be. I wanted something 'safe' to start out with. It is interesting to me that I need to explain my choice or that I now find it strange that you have to select being male or female and you don't have other options because prior to this class, I wouldn't have thought about it.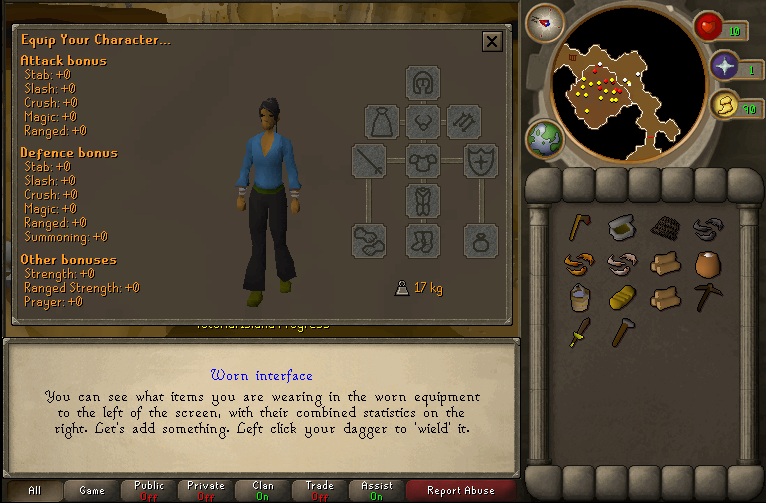 Anyways, on creating my avatar, I was given a basic tutorial on acquiring skills, what to keep an eye out for, where I could go for help – just getting a handle on the world of Runescape. It is a medieval setting so there are castles, caves, dragons and goblins. It struck me as funny how quickly one could learn to mine, chop trees and make a fire, fish etc. I didn't like using the mouse to move around though. I'm more used to using the arrow keys – it gives me a better control over my avatar's movements. When I finished the tutorial, I teleported off Tutorial Island to the land of Lumbridge. It took me a while to figure things out since I didn't have anyone telling me what to do. I was ultimately sent out on a quest for the cook of the Duke's castle but I didn't finish getting everything before I had to log off (I hope the Duke didn't kill him for not making his birthday cake – that would be sad :().
A few other things I noticed: one of the first things I learnt in the tutorial was that you need to talk to people in order to succeed. There were plenty of other users online when I started my quest but I didn't talk to anyone. Why? Because I have a warning bell in the back of my head saying that this could potentially be a stalker and I'd rather be safe than sorry. I know, I know, not everyone is like that, it's not right to generalize to the entire populace of video gamers but in my defense, I'm still new to this. I need some time to try things out.
As it turns out, I was followed. Twice. By two knights. I'm not sure if they were users or not but the first time, I was followed for a good three minutes. I was actually very amused by that. I tried clicking on the knight to see if I could start a conversation with him to ask him why he was following me but unfortunately, no such luck. I wonder if he was trying to keep me off some property or debating on killing me to get the items in my backpack. I don't know what his motive was – he eventually ran away for some reason when I was inside the castle.
Another point that struck me was the reality check – the small pieces of conversation here and there that remind you that you're playing a game and that you're not actually in medieval times. For example, in the tutorial, you were asked to refer to the Runescape website to see the rules on in-game behavior so that you wouldn't get in the other players' way or offend them (Side note: behavior was spelled 'behaviour', which made me really happy since I learnt British English when in school). Also, the first piece of advice I received in Lumbridge was to keep my password and pin safe and not give that information to anyone else.
On the whole, I'm not sure how I feel about it – the game had its good and bad parts. Maybe I need to keep playing to figure out if I like it or not :).
And here are some pictures from my adventures: