Nintendo DSi. The World Ends with You.
As some of you may or may not know, two months ago I pre-ordered the new Nintendo DSi. I have been waiting, not so patiently (just ask anyone from the track team), for it to come for what seems like an eternity. Last Tuesday it arrived. AHHHHHHHHHh. I would love to tell you that I spent all weekend enjoying my wonderful new matte blue portable game system, but sadly my excessive work load was crushing my gaming soul. That being said, I did manage to squeeze in a few *cough* hours of play-time.
My gamer friend kate recommended that I play The World Ends with You. So on Friday evening she came down to my room and we both played the same game seperately on our DS systems (whoever said gaming makes you a loner is very wrong). The game is set in the modern day shopping district of Tokyo and was inspired by kingdom hearts. In the game you are Neku, a boy who wakes up in a life or death game, but has no memory of anything but his name. There are a whole bunch of interesting characters that you meet like Shiki, Beat, Rhyme, Joshua.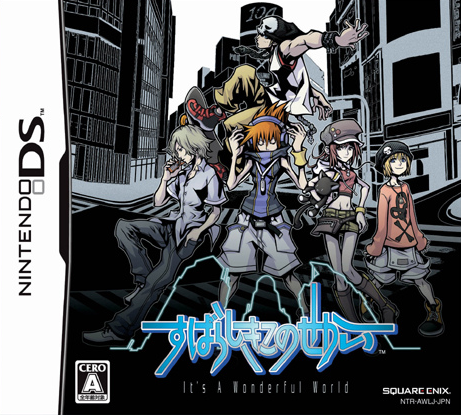 I think this game is really well done. Although you are a 15 year-old boy, you get paired in the game with other characters and meet other characters, many of whom are strong females (Shiki, Rhyme, some of the Reaper badies). The creators also employed a lot of elements that girls may like more. For example, following fashion trends provides you with certain benefits when fighting. This is a game that was definitely created with both of the sexes in mind.