Multimedia Project: Cyberspace & Real Space Collage
Sorry, the image ("Glog") is too large to embed…click on the preview image for the full project, please!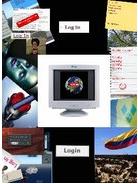 This project was my attempt at exploring the divide between my "real space" and cyberspace (or lack thereof), along with the idea that whatever we put online, stays online…its as though we can "log out" but never truly leave. For me, that's a scary thought.